Licensed Marital and Family Therapist

National Board Certified Art Therapist (#04-188)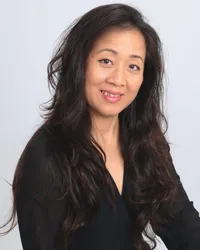 Evelyn has been providing mental health services for a wide variety of disorders and diverse populations of children and adults for over 20 years. She is licensed as a Marriage and Family Therapist in multiple states. She uses a holistic approach to facilitate therapeutic change, infusing her work with elements from evidenced-based interventions, behavioral, cognitive, and psychodynamic therapies. Her therapeutic work facilitates the individuals' desired changes using traditional and non-traditional methods, such as art therapy, neurofeedback, mindfulness, and interpersonal process therapy.
In neurofeedback, brain waves and neuropathways are retrained to help change maladaptive patterns of behavior and thought patterns. Neurofeedback is often used to help improve physiological symptoms related to stress, such as vertigo, motor imbalance, and asthma, to name a few of the many health benefits, as well as for emotional attunement, ADHD, improved cognitive performance, and trauma resolution.
In art therapy, healing is facilitated through the individuals' expession and processing of emotions through the use of a wide variety of creative means.
In eye movement desensitization reprocessing (EMDR), healing is facilitated through the reprocess of maladaptive stored experiences (consciousness) that resulted in conclusions about oneself that interfere with one's ability to be completely whole within one's sense of self, culture, generation, position or role in society.

Evelyn's professional training, expertise, and qualifications include:
National Board Certified Art Therapist

Advanced specialty in Neurofeedback

Psychotherapy for trauma with a variety of methods, including neurofeedback and trama-focused cognitive behavioral therapy

Treatment and management of mood disorders, such as depression, anxiety, and stress

Psychotherapy for addictive behaviors

Psychotherapy for attachment disorders that result in intimacy issues, difficulty establishing healthy relationships, feeling trust, feeling secure, and/or feeling loved in relationships. These problems related to early attachment trauma usually lead to miscommunication and misperception in relationships, which, in turn, interfere with healthy socialization, healthy relationships, and development of a healthy self-esteem
Evelyn graduated with her Bachelor of Arts degree in Psychology from California State University, Long Beach. She then obtained her Master of Arts degree, and specialization in Clinical Art Therapy from Loyola Marymount University. She worked for several years in the public sector, including at community mental health settings and inpatient trauma center. She has worked in private practice since 2008.